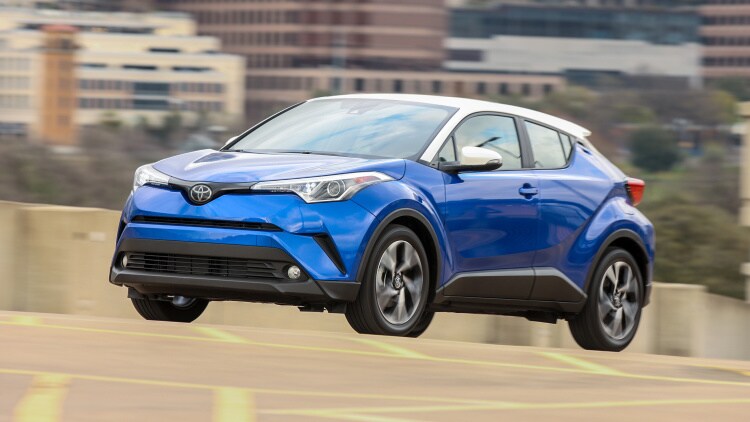 The 2018 Toyota C-HR is here! We are excited to let you know that we have 5 vehicles at our dealership. The blog post this month is meant to highlight many of the amazing features of the 2018 Toyota C-HR. We hope that you learn a lot more about this vehicle, and even come in for a test drive.
Let us start with the exterior. Precision is the best way to describe the design. It gives the C-HR a very edgy and rebellious look and feel. This unique design ensures that it will turn heads wherever you go. When it comes to the wheels, this bad boy comes equipped with standard vortex-styled 18-inch sport alloy wheels. The lights are unique in that the 2018 Toyota C-HR comes with LED Daytime Running Lights(DRL) along with standard halogen headlights.
Now on to the interior. You will get a premium leather trimmed steering wheel and a satin plated shift knob that gives off the aura of luxury and class. Another interesting feature is dual zone climate control. This ensures that those wanting heat and those wanting more air will seamlessly be able to adjust the temperature to suit their needs. We believe this means there will be very little complaining on those long road trips! The 2018 Toyota C-HR also comes with standard 60/40 split rear seats. The rear hatch opens up to reveal a large cargo space. This will ensure that you are able to fit things in the trunk and transport many items seamlessly as needed.
Take some time and view our inventory of Toyota C-HR vehicles. We only have 5 left! View them
here
.